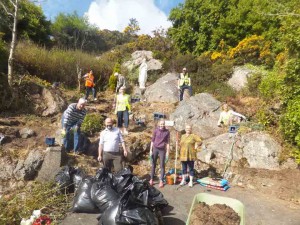 After several successful Action Days were held in April for National Spring Clean Month we had one last one 25th April at The Shrine. We got lots of cleaning, weeding and planting done and it looks great. We even got approval from, Anne Furlong and Margaret O' Connor, the two ladies who looks after the shrine day in and day out and were glad we could help them out with some new plants.
We have created several wonderful flower displays around the town from Kerlogue to Carcur during April for everyone to enjoy. Over the next couple of Summer months expect them to be bursting with vibrant colour and fragrance. Thank you to Olga of Beechdale Garden Centre for all the advice and help in selecting suitable plants which are also friendly for our buzzing friend the bee. Well done to all the volunteers for their hard work.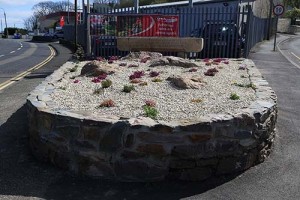 We had a litterpick of the town on Saturday 9th May at 10am when a group of us met outside the Library. We are also holding regular weekly cleanings on the Bullring and Main Street meeting Wednesday and Thursday evenings at 6pm in The Bullring. If any residents, business owners or employees could join us after work or if you have an hour to spare we would be delighted with the help.
We would like to take to opportunity to praise the residents of Maudlintown who got a group together and organised a cleanup of their own area. We helped by providing cleaning materials like bags and brushes and would encourage any residents in any estate if you would like to organise a cleanup in your area, the tidy towns will be 100% behind you. We will organise litter pickers, bags, spades, and have the rubbish collected for you get in touch and we will organise the rest. There will be a cleanup on Kaat Strand on the 16th of May when some of our volunteers will be joining a group from the Inland Waterways headed by Brian Coulter. If you have an hour or two to spare that morning please come along.