From the grassy areas, gardens, graveyards, parks and woods, the railway lines, the urban streams, the rivers, the allotments and numerous other green networks, or 'corridors' make up the rest of what is sometimes called the 'green infrastructure' of our settlements. All these areas and many more make up a vast area of urban 'habitats', which is just another name for places where a plant or animal can live. Much can be done to improve the protection of biodiversity in our urban areas such as developing specific areas of biodiversity by creating new wetlands or woodlands in parks and ensuring their management is less intensive. Biodiversity needs to be at the forefront of local authority development plans and urban spatial planning. This could be accomplished through partnerships with a wide range of groups.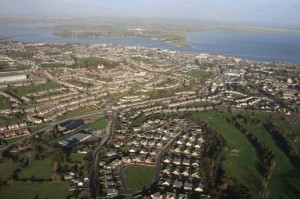 Wexford town supports a wide range of wildlife habitats and species of local or even national conservation interest. Birds nest in trees, shrubs or under the eaves of buildings. Hedgerows support mammals, insects and wild flowering plants. Bats roost in buildings, trees and underneath old bridges. Fungi, lichens and mosses grow on both wood and stone, while waterways support otters, frogs, newts, insects, waterfowl and fish. A wide range of plants and animals can be found in public green spaces, parks, old stone walls, hedgerows, graveyards, bridges, rivers, canals, gardens and waste ground. The wildlife in the built up areas can be well hidden and may inhabit areas at the edge of the town.
To find out more about Biodiversity, and how you can become involved in the preservation and improvement of the "Green Infrastructure" in Wexford, click on the link below, which has information about County Wexford Biodiversity Action Plan, tips for encouraging biodiversity in your area.
County Wexford Biodiversity Action Plan