Pledge your support to the 'Let's Bee Friendly Campaign' by planting at least one of the recommended pollinator friendly flowers listed here in your garden or following some of the gardening tips to help our bees. We would love everyone to play a role in helping our Bees  – you can make a difference.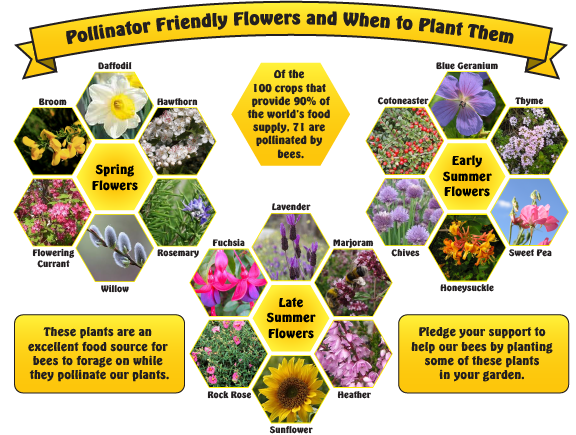 Make Your Garden Bee Friendly!
Parks and gardens can play an important role in bee conservation. It's vital you provide flowers throughout the Bumble Bee's life-cycle, from March to September. It's also a good idea to have at least two nectar or pollen-rich plants in flower at any one time during this period. The nectar feeds the adult bee, while the pollen is collected to feed the young. Of course, the more flowers you have, the more attractive your garden is to bees, so you can never have too many! Wherever you live in Ireland, you should be able to attract at least 5 different Bumble Bee species to keep you company in your garden in summer. Learn more about gardening for bees.
Interesting Facts
There are 101 species of bee in Ireland.
Not all bees make honey, in fact there is only 1 species of honey bee that makes a significant amount of honey, they live in places like in holes of old trees in the wild.
There are 20 species of bumble bee in Ireland. They live in colonies in the ground or long grass and have a queen and workers like the honey bee.
Most bee species in Ireland (80 altogether) are solitary bees. They nest in burrows, holes in walls, hollow stems, or holes in wood.

Pledges to the Let's Bee Friendly Campaign
I will plant at least two of these plants each season and I hope to start passing the message to my Facebook friends in Australia to get people doing the same. – Sally
Change my garden into a pollinator garden. – Riese
I pledge to plant bee friendly plants and encourage others to do so as well – Shannon Radzunas
We have already pledged but we are so delighted with our recent bit of gardening in Redmond Park that we figured we ought to come back and blow our trumpet some more! We planted Helenium, Lupinus 'Gallery Rose Shades', Chamomile, Salvia nemorosa Ostfriesland, Digitalis purpurea Dalmation F1 Purple, Anemone x hybrida (Japanese Anemone). We are assured that these will attract loads of bees and butterflies. – Love Redmond Park
We have a bee friendly area in our garden but hope to extend it next year. – Sarah Kerr
'Biodiversity in Schools' brought their 'Pollinator Project' to Wexford this year and have been working with primary school students to Bee Friendly! We've planted over 300 sunflowers with around 150 students from six schools. We also started a bee-friendly, organic, Irish wildflower patch at each school too! – Mark Nolan, Biodiversity in Schools
I pledge to Bee friendly – Ciara Quinn
Already have the Chives and Thyme in place but pledge to plant more pollinator friendly flowers this summer. – Fergal O'Byrne
I already have many busy bees in my garden and some more plants almost ready to plant out and attract some more

– Phil Keeling
I pledge not to squish the bees when they come into my house. I'll also pledge to plant a whole mess of flowers this summer. – Ted Moran
I pledge to grow more herbs and flowers that encourage bee populations in my garden. I will educate my children the importance of bees in our ecosystem. And I'll try my hardest not to swat them too hard when they chase me. I'll just put them in the naughty corner with the dandelions! – Catherine Richard
I pledge to make my mother's garden even more bee friendly as I don't have a garden of any sort. – Glenn Broaders
I pledge to plant the pollinator friendly flowers in my garden! – Cathy Fox
My Sweet Pea is planted and I will have lavender and Sunflowers later this summer also. – Nicola
I pledge to plant lots of bee-friendly species and to garden organically! – Sara Kelly
We pledge to plant all forms of plants that will attract butterflies, bees and wasps. – Wexford Tidy Towns Member
To sow Sunflowers and more Thyme and Lavender. – Mary Foley
I pledge to plant Rosemary, Thyme and Lavendar and heather in my garden to cover all the seasons, inspiration taken from the window boxes at the Wexford Town Library. – Sue Kent
To fill my garden with bee friendly plants – Dara Hilliard
Redmond Park has plenty of plants to keep the bees happy. We have daffodils, crocuses, bluebells, loads of wildflowers including Birdsfoot Trefoil, Blue-Eyed grass, flowering thistle, Burdock, Common Vetch, Cowslip, Meadowsweet, Ox-eye Daisy, Purple Loosestrife, Sorrel, Dog Violet. We also have crab apples and hazel trees. – Love Redmond Park
We have hawthorn, heather, chives, thyme, rosemary, marigolds, bluebells, apple trees, crocuses, primroses, sunflowers (on the way!), raspberry, dandelions, daisies and loads of other flowering plants I don't have names for! – Róisín O'Reilly
Im just in the middle of completely replanting my small garden but I'll be making it as bee friendly as I can by using a mixture of the bee friendly plants. – Ben Mac Caoilte
Hoping to plant some lavender in our garden in Taghmon. Bees at our old house seemed to love it and its a lovely looking plant in flower. – George
Daffs, Hawthorn, willow, lavendar, heather,cotoneaster,honeysuckle and others all planted and ready for the bees! – Brian O'Shaughnessy
The Wexford Lions Club pledge to support the "Lets Bee Friendly" campaign by observing the biodiversity rules and guidelines in Selskar Abbey and by planting bee friendly plants and allowing some wild areas.
Monica and Vivian Crofton will allow clover patches and some wild areas in their garden on Forth Mountain and plant some bee friendly plants.