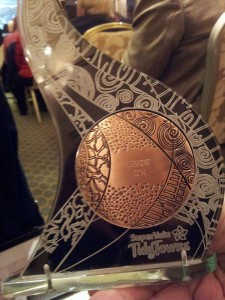 Members of Wexford Tidy Towns picked up the Bronze medal that we were awarded earlier this year at the National Tidy Town Awards at the Regional Awards Ceremony held in Kilkenny at the end of November. Congratulations to everyone who helped us receive this award, from the volunteers to business owners and residents who all play a role in keeping Wexford clean and beautiful. We were delighted to regain our bronze award this year.
We had our last clean-up of the year on 13th December meeting at the Bullring. Thank you to everyone who came along and wore their festive Christmas hats! Some photos of the clean-up taken by our friends in Love Redmond Park can be found here. We had very little litter to pick up thanks to the Gateway people who are a credit to our town. We got 31 people to sign up for the Green Dog Walkers more details on that scheme and how you can sign up be found here. We also gave out a lot of cigarette pouches, now we hope everyone remembers to use them. Bin your cigarette butts!
Wexford Tidy Towns wishes everyone a Merry Christmas and best wishes for the New Year. Thank you for all your support this year to Wexford Tidy Towns and to anyone who helped out in any way. We look forward to your continued support throughout 2015 and to making next year an even bigger success for Wexford Tidy Towns.