We were delighted to win Silver in Tidy Town Awards this year. We would like to acknowledge that part of our success has been due to the continued support of local businesses, their donations to us and improvements they undertake on their premises. We would like to highlight some of their contribution over the last few months which we are very grateful for.
The manager of Tesco, David Leonard, contacted us recently to say they would like to help Tidy town including offering us a room to hold our monthly meetings, with coffee/tea and biscuits included all free of charge. Thank you so much Tesco, we will be taking you up on these.
Thanks to Aldi who have given us hundreds of flowers in the last few months to brighten up our town and to Woodies who donated flower pots and other garden supplies for our use in this time too. Thanks to these donation of lovely flowers and equipment and the hard work of Wexford Tidy Towns Volunteers we have been able to plant up many more areas of the town during our Action Days. Most recently on October 15th we did lots of planting of flowers donated by Aldi in the Kennedy Park area thanks to the 18 volunteers who were there on the day.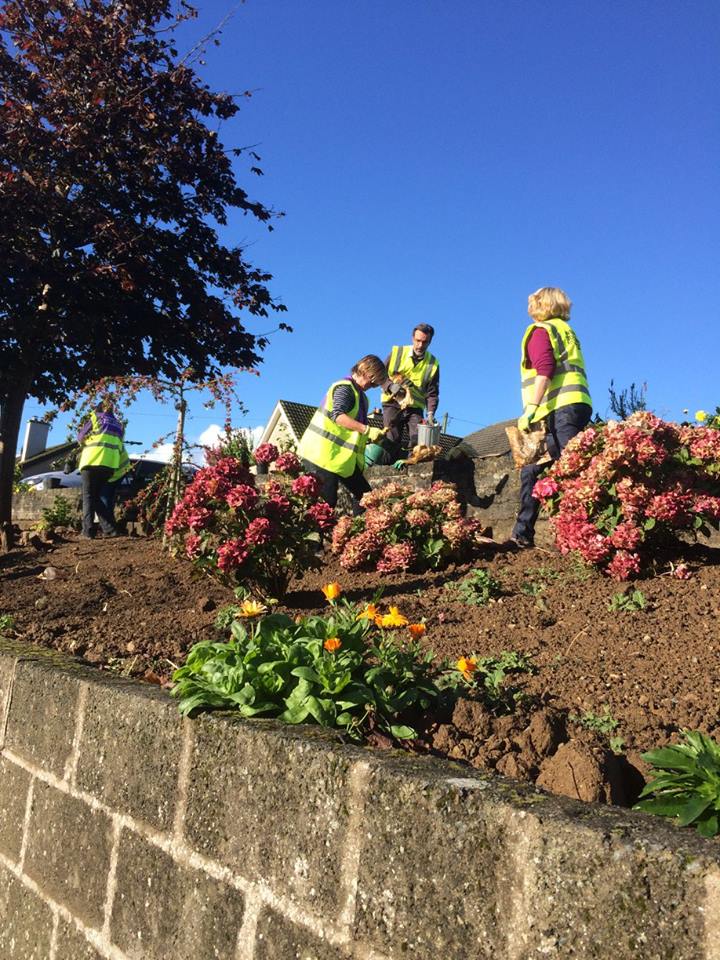 Thank you Mr Hickey, the new owner of Old Tesco on the Quay for responding to our request for this building, we were so happy to see the Old Tesco building getting a new face lift, it make such a difference to our quay to see this place cleaned up. We were also delighted to see the old hoarding between Sharkys and Argos being replaced. These improvements or upkeep on premises can make a difference in the clean and beautiful look we wish to maintain for our town.
Thank you to all the retailers who took part in Wexford in Bloom we had the town looking beautiful all flowered up again this Summer. Great to see the Main Street and center of town and Quays full of the flower baskets to be enjoyed by locals and visitors alike.
Thank you to everyone else who has helped us in many different ways. We are grateful and hope for the continued support of the local community as we strive for the Gold Award next. If you would like to join our Volunteers and/or help support us please message us on our Facebook Page, info@wexfordtidytowns.com or contact 086-3558878.