We had a wonderful Summer with Wexford Tidy Towns, lots of clean-ups and projects around the town were undertaken. Thanks to Wexford in Bloom the town looked blooming wonderful all Summer long and into the early Autumn months. The baskets and window boxes around the town looked amazing and brightened up the area for all the locals and visitors. Meanwhile our volunteers were hard at work weeding and maintaining some of the flower beds around the town. Also thanks to local retailers for the donation of flowers we really appreciate them so we can cover more areas.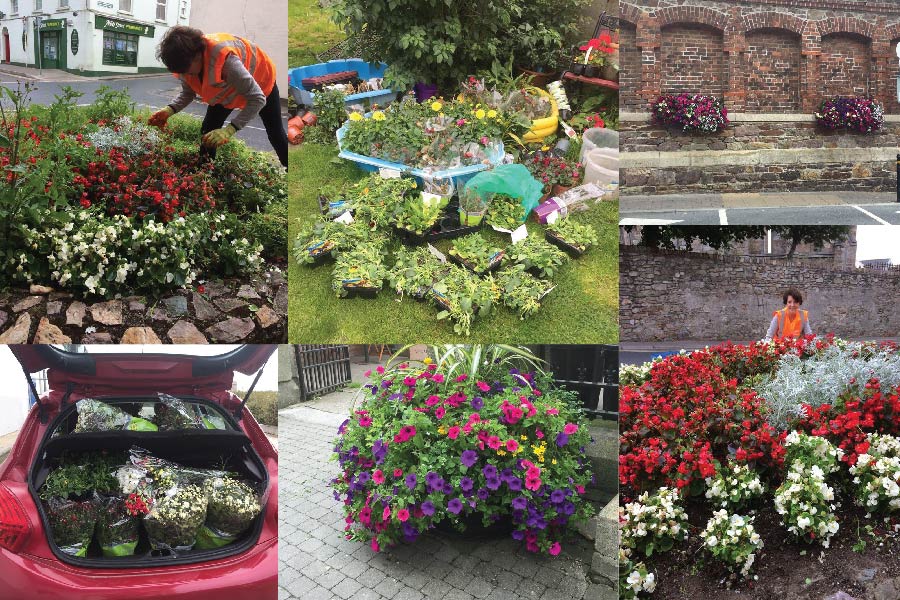 Wexford Tidy Towns volunteers took part in several clean-ups during these months. We litter picked, swept, planted, weeded and tackled some Japanese Knotweed. We even got to try out some new cleaning machines that made some of these tasks easier. Volunteers were up in the Rocks in Maudlintown tackling knotweed and doing a general clean of the area collecting over 35 bags of rubbish and knotweed from that area. We were back along the Quays and Grogans road for more painting, sweeping, and litter picking and in Peters Square for some planting. We also got the lane ways and Ferrybank litter picked and tackled the field beside the Clinic in Grogans Road. See some photos of our hardworking Wexford Tidy Town Volunteers undertaking some of these tasks below. Thank you everyone who came out and joined us at our clean-ups, new volunteers are always welcome.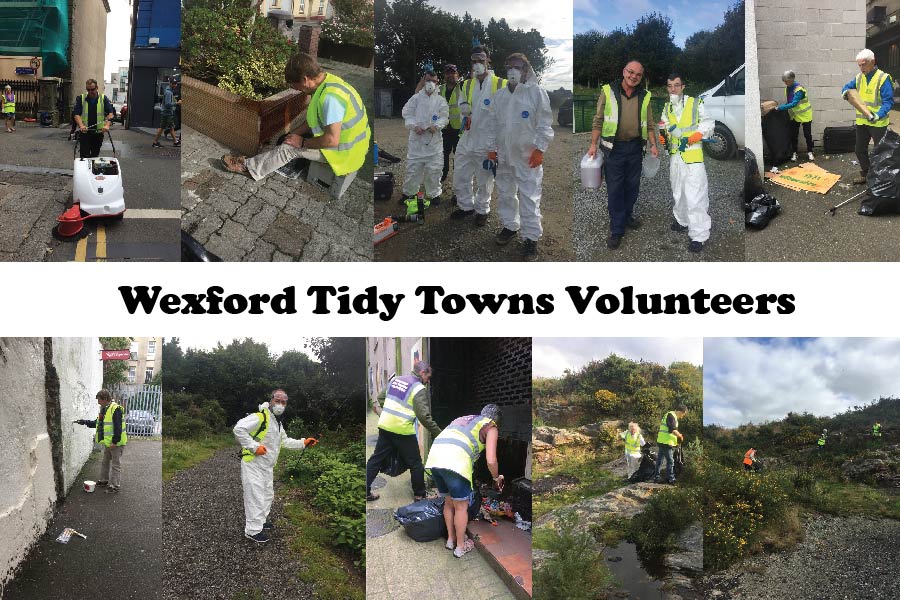 One local initiative we would like to highlight is the installation of book boxes by Wexford Little Free Library the first one is located at The Bullring and the second in Redmond Park with wonderful artwork on them done by local artists. The one in Redmond Park is dedicated to children's books. So keep an eye out for these around the town bring along a book you would like to donate and take a different one. Check out their Facebook Page for future plans and locations of new boxes around Wexford.
The I.B.A.L. results (Irish Business Against Litter) for 2017 saw Wexford joint 26th out of 40 towns which was a drop in the rankings compared to last years results. We would encourage businesses and residents to look after their own places and hopefully we can climb back up the ranks again next year. Thanks to all those who are helping maintain the cleanliness in their own areas of town.
We were delighted to retain our silver medal in the National Tidy Towns Annual Awards in the Helix, Dublin on 25th September. This is thanks to our fantastic team of volunteers who help keep our town clean and beautiful. Check out the Adjudicators report here. We will continue to work towards the Gold Award and appreciate any support from local volunteers, residents and businesses.
Thank you to all those who helped us achieve this Silver Award. We always need more volunteers so get in touch to see how you can help or please join us at one of our clean-ups. Thank you for the continued support from the community and local businesses. Everyone can help keep Wexford clean and beautiful!